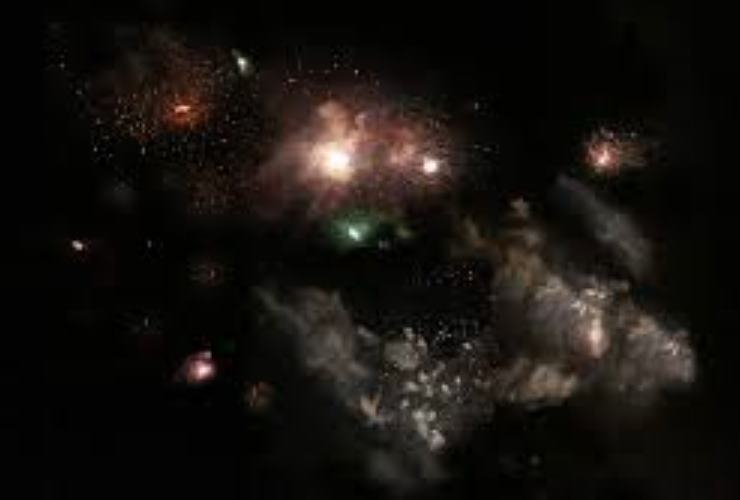 Billions and Billions of Years
When I was a kid, it seems like school books used to claim that the universe was 4.5 million years old. Now, the latest theories are that the universe is around 14 billion years old. (Some even claim up to 20 billion years old). It seems the harder the secular society tries to explain the age of the universe; the answer tends to be just add more billions and billions of years. But no matter how many billions and billions of years they keep pushing it out, they still can't explain how it began. 
So many prominent atheists – like Richard Dawkins, claim that everything came from nothing. How much do you have to hate the great Creator God (that you say doesn't exist) to foolishly believe that everything came from nothing? Tell me, how in the world can you logically believe this? How can you use your God-given brain or I should say, not use your God-given brain to believe that nothing created everything? It is one of the most illogical claims ever made! Nothing gives you nothing, not everything.
Everything Came From Nothing?
I challenge you students today to give me one example of nothing creating something? Please show me how you can create something out of nothing? I've never seen it and I don't suspect that I ever will. You and I cannot create something out of nothing. We are not Almighty God. We cannot create anything out nothing. So how can you logically believe that everything came from nothing?
How can people believe that billions and billions of years of evolution explains how things started (again from nothing)? But no matter how many billions and billions of years you go back, it doesn't make sense. Adding more years doesn't make it true. The library you see in front of me, if you add hundreds of years (let alone millions or billions), this building is not being added to or getting better. No, quite the opposite. The more time you add, the more the building decays (without repairs or maintenance).
Just think of the old barns you pass on the interstate. I'm talking about those old 80, 90, 100 year old barns that have missing boards, rotten boards and look as if you could push them over with your finger if you touched them. Adding more decades does not improve the condition of those old barns. They are not getting better with time. No, they are deteriorating more and more all the time.
In Your Prime
Most of you are very young and you might even say that you are in your prime. You can probably run fast, lift weights and your minds are sharp. I on the other hand am a man in his mid 50's. I can't run anymore, I can't lift weights like I used to and my mind is nothing like it used to be. When I was your age, I had a great memory. Now, I have to write everything down because I forget what I wanted to do shortly after a thought leaves my mind. I'm not getting better physically and mentally as I age.
No, it's quite the opposite. My neck hurts, my back hurts and my knee hurts pretty much all the time. My body is not getting better, but worse. No matter how many decades you add to my life, my physical state and mental state are not going to get any better. If I'm this bad now, I can't imagine what I'd be like at 80 or 90. But one things for sure, I won't be mentally or physically better if I live that long.
Students, today I just want you to logically think about how it all began and how things wear out over time. Your car wears out, your clothes wear out and even you and I wear out. We aren't getting better with age. Skeptics and atheists continually adding billions and billions of years to the start of the universe does not explain how the universe started. Adding more time does not solve the problem. When you have stinking thinking, adding more time does not correct your erroneous thinking.
Important Issues Of Life
No, to figure out the important issues of life, where did we come from? Why are we here? Where are we going? Looking for answers to these questions doesn't require us to keep adding billions of years because we don't know the answers and no amount of additional time will give us the answers. Instead, we need to look to the One who knows the answers. God gives us the answers in the Bible.
In the beginning God created the heaven and the earth (Genesis 1:1). Please listen to what Genesis 1:26 says: And God said, Let us make man in our image, after our likeness: and let them have dominion over the fish of the sea, and over the fowl of the air, and over the cattle, and over all the earth, and over every creeping thing that creepeth upon the earth.
Even every one that is called by my name: for I have created him for my glory, I have formed him; yea, I have made him (Isaiah 43:7). Whether therefore ye eat, or drink, or whatsoever ye do, do all to the glory of God (1 Corinthians 10:31).
Our Purpose Is To…
God made us in His image. Our purpose in life is to glorify God. That's why God made us. But just like Adam and Eve, we have all rebelled against God. We do not glorify God when we are rebelling against Him. Sadly, we have all done this. There is none righteous, no not one. Many of you are likely still rebelling against God. Jesus said: Enter ye in at the strait gate: for wide is the gate, and broad is the way, that leadeth to destruction, and many there be which go in thereat: Because strait is the gate, and narrow is the way, which leadeth unto life, and few there be that find it (Matthew 7:13-14).
Students, you may think I'm an angry old man, but I'm not. You may think that I hate you, but I don't. It's out of love that I come here and share the glorious Gospel with you. I love God because He first loved me; and I love others because I love God. No, I don't want any of you to die in your sins and go to Hell.
The big question in life is where will you go after you die? God made us to think about these things. Do you really think that when you die, that's it? There's nothing else? This life is full of pain and misery. Evil runs rampant. God doesn't cause evil, we do. Again, Adam and Eve sinned in the garden of Eden and all of us have sinned since then. Satan is the little g god of this world and he has many people blinded. He keeps them deceived farther and farther in their sins. But he is the great deceiver. He is the father of lies.
Sin Never Brings True Joy
Don't continue living your life for the here and now. Please don't continue living your life selfishly for yourself. You can keep searching for happiness in all the wrong places, but you will never find true joy in your sins. Continuing in your sins is unfulfilling. Enough is never enough. No amount of additional time changes that.
Some people that like to drink keep drinking until they are alcoholics. They drink for so long that they can't give it up. Many people that continue having immoral sexual relations end up with a sexually transmitted disease. According to the CDC in 2014, 110 million Americans have a sexually transmitted disease. It's estimated that one-half of sexually active Americans age 25 or younger have an STD and many of them don't even know it.
There are consequences for sins. You can choose your actions, but you can't choose your consequences. Choices you make right now at college could impact your future husband or future wife. There are penalties for sin. In the end, we all die. The soul that sins, it shall die. We've all sinned and we are all going to die someday. All 7 ½ billion of us. The question is, where will you go when you die? Are you headed for Heaven or Hell? There's only one way to Heaven and that's through Jesus Christ alone. He is the only Savior. He is our only hope. If Jesus is not your Lord and Savior, then you are on that broad road to destruction that Jesus talked about. You area headed for Hell.
Don't Die In Your Sins
I don't want you die in your sins and be punished for all eternity over your sins. Please repent from your sins and put your faith in Jesus. Turn from your sins and turn to Jesus Christ. He is the only Savior. He is our only hope.
Hope is not found in evolution. It is not found in adding more billions of years to what atheists say is the beginning. Atheism offers no hope. If this was really all there was, it would be most depressing. The world is full of pain, misery, and evil.
But this is not all there is. The earth and current Heaven are going to burn up. All unrepentant sinners are going to account for all their sins on Judgment Day. I just read where D.B. Cooper the wrote a letter the the FBI around 1970 bragging that he would never get caught for hijacking an airliner and extorting $200,000.
Oh, but DB Cooper is wrong. He will one day give an account of every single wicked thought, every lie, everything he ever stole, including his extortion of $200,000. All unrepentant liars will have their part in the lake of fire and brimstone. Stealing breaks the eight commandment. The Bible says that no extortioner shall inherit the kingdom of God.
The Unrighteous Shall Not Inherit The Kingdom Of God
Know ye not that the unrighteous shall not inherit the kingdom of God? Be not deceived: neither fornicators, nor idolaters, nor adulterers, nor effeminate, nor homosexuals, Nor thieves, nor covetous, nor drunkards, nor revilers, nor extortioners, shall inherit the kingdom of God (1 Corinthians 6:9-10).
D.B. Cooper won't be the only one in trouble on the great and terrible day of the Lord. Judgment Day will be a horrible day for all unrepentant sinners. This isn't even an all-inclusive list, but it is a list of sins prevalent to mankind.
But please listen to what the apostle Paul says to repentant sinners, to those who have turned from their sins and to Jesus: And such were some of you: but ye are washed, but ye are sanctified, but ye are justified in the name of the Lord Jesus, and by the Spirit of our God (1 Corinthians 6:11).
You see, there is hope in Jesus Christ the Lord. Those of us who have repented from our sins and surrendered our lives to Jesus have hope in the Lord. We've been washed, we are sanctified, we are justified in the name of Jesus. These are beautiful words to all true followers of Jesus Christ.
Come To Jesus And Be Saved
Oh, come to Jesus and be saved. Call upon the name of Jesus Christ and be saved. Repent and believe the Gospel. Submit your life to King Jesus. Surrender your life wholly to the Lord. Receive peace that surpasses all understanding. Repent and trust Jesus.
All things were created by Jesus and for Jesus. For by him were all things created, that are in heaven, and that are in earth, visible and invisible, whether they be thrones, or dominions, or principalities, or powers: all things were created by him, and for him (Colossians 1:16). Believe in Jesus the great Creator. Don't foolishly continue believing in billions and billions of years of nothing creating everything.
Things are not getting better, they are getting worse.  And all the host of heaven shall be dissolved, and the heavens shall be rolled together as a scroll: and all their host shall fall down, as the leaf falleth off from the vine, and as a falling fig from the fig tree (Isaiah 34:4).
The universe isn't improving, it's going to be dissolved, just like the earth. Don't keep swallowing lies. Believe the truth. Jesus is the great Creator. Jesus is the truth. The Lord is the only Savior. Bow your knee and confess with your tongue that Jesus is Lord. Repent from your sins and put your faith in Jesus. Do this without delay.
(This message was proclaimed at Missouri State University on November 20, 2017)