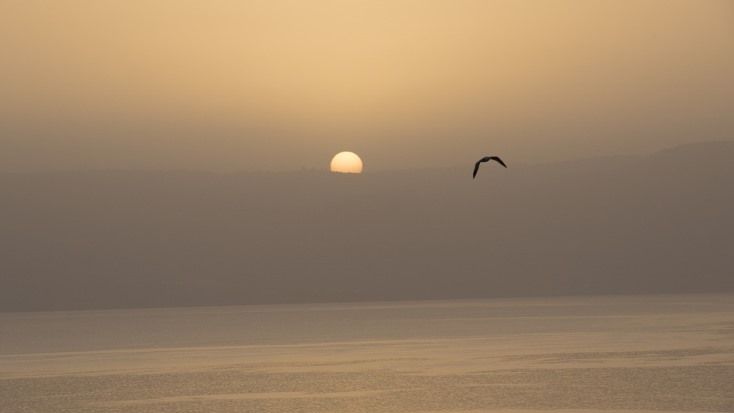 Peace Be Still
Tonight, I want to talk about peace. Don't you want peace? Wouldn't you love to see world peace? Do you want peace in your home, at work, peace in your life? I should ask, do you have peace in your life? Jesus Christ is the Prince of Peace. He is the one who said "Peace be still." 
Mark 4:35-41 states: And the same day, when the evening was come, he said unto them, Let us pass over unto the other side. And when they had sent away the multitude, they took him even as he was in the ship. And there were also with him other little ships. And there arose a great storm of wind, and the waves beat into the ship, so that it was now full.
And he was in the hinder part of the ship, asleep on a pillow: and they awoke him, and said unto him, Master, do you not that we perish? And he arose, and rebuked the wind, and said unto the sea, Peace be still. And the wind ceased, and there was a great calm. And he said unto them, Why are you so fearful? how is it that you have no faith? And they feared exceedingly, and said one to another, What manner of man is this, that even the wind and the sea obey him?
Jesus Truly Is The Son Of God
Prior to this, Jesus started His ministry preaching the Gospel (this was first and foremost to the Lord); then He healed the sick and cast out demons. Now Jesus demonstrates that He truly is the Son of God by calming the storm. These are just a handful of verses, but please don't miss the significance of them. The boat was full of water. This wasn't some little wimpy storm, no this was a massive storm. Jesus' disciples truly were afraid that the boat was going to sink.
So they went to Jesus for help and He said those wonderful words "Peace, be still." The wind ceased and there was a great calm. Don't miss this. Jesus spoke and immediately the wind stopped blowing and the boat stopped tossing back and forth. The sea of Galilee became smooth as glass. There was a great calm.
If You Want Calm And Peace
Oh, if you want calm, if you want peace, you must come to the Prince of Peace. For unto us a child is born, unto us a son is given: and the government shall be upon his shoulder: and his name shall be called Wonderful, Counsellor, The mighty God, The everlasting Father, The Prince of Peace. Of the increase of his government and peace there shall be no end, upon the throne of David, and upon his kingdom, to order it, and to establish it with judgment and with justice from henceforth even forever. The zeal of the Lord of hosts will perform this (Isaiah 9:6-7).
Jesus is the promised Savior. He is the only hope of mankind. The Prince of peace. Jesus is Lord of all and His kingdom will rule forever, there shall be no end to it. Do you know the Prince of Peace? Have you repented and surrendered your life to Him?
Is Jesus Christ your Lord and Savior? Oh, do you have peace with God? Without Jesus, there is no peace. No Jesus, no peace. Know Jesus, know peace. Therefore being justified by faith, we have peace with God through our Lord Jesus Christ: By whom also we have access by faith into this grace wherein we stand, and rejoice in hope of the glory of God (Romans 5:1-2).
Do You Have Peace With God
We have peace with God when we are justified through faith. How are you justified, just or righteous? Well, the Bible says that none of us are righteous. Now we know that what things soever the law says, it says to them who are under the law: that every mouth may be stopped, and all the world may become guilty before God. Therefore by the deeds of the law there shall no flesh be justified in his sight: for by the law is the knowledge of sin (Romans 3:19-20).
Every mouth will be stopped and all the world is guilty. By keeping the Law (10 Commandments) no one shall be justified. So if we are all guilty and none of us are just, how can we be justified? We can only be justified through faith. Just any old faith? In anything? Of course not. You can have faith, fervent faith, that is misplaced.
If you are trusting in Buddhism, Islam, Catholicism, Jehovah's Witness, Mormonism, Bahai, Wiccan or any other man-made religion, your trust is misplaced. You are trusting in the wrong thing. You still are not justified or right with the one true God. All these false religions are works based. They count on you doing something for your salvation. Don't forget that I stated earlier that none of us are justified on our own. No, none of us meet God's perfect standard.
You Need Faith In Jesus
Oh, you need faith all right, but you need faith in the One who is perfect. The One who can take away your sins. You need to trust in Jesus Christ alone. Trust in the One who saves, the only One that saves people from their sins. You must trust in Jesus Christ, the righteous Son of God.
But now the righteousness of God without the law is manifested, being witnessed by the law and the prophets; Even the righteousness of God which is by faith of Jesus Christ unto all and upon all them that believe: for there is no difference: For all have sinned, and come short of the glory of God;
Being justified freely by his grace through the redemption that is in Christ Jesus: Whom God hath set forth to be a propitiation through faith in his blood, to declare his righteousness for the remission (or forgiveness) of sins that are past, through the forbearance of God; To declare, I say, at this time his righteousness: that he might be just, and the justifier of him which believeth in Jesus (Romans 3:21-26).
We Need The Righteousness Of God
The righteousness of God is what we need and it is found in Jesus Christ. But you must believe that He lived a sinless life, suffered, bled and died for you, in place of you and that He rose from the grave three days after dying on the cross. Not only do you need to believe that Jesus died in your place, but that He was the propitiation for your sins. Propitiation means the wrath was satisfied.
God's righteous anger over your sins was satisfied when He poured his wrath out upon His own precious sinless Son; if you believe. Jesus' righteous sacrifice is the only way that your sins can be forgiven. But you must believe in the Lord Jesus. Not just believe some facts, but truly believe. Truly repent from your sins and put your faith in Him. This is true belief.
Oh, when you do this, your sins are forgiven. Jesus is the Justifier, He justifies you; Jesus takes your sins and gives you His righteousness, when you believe in Him with saving faith. Oh, do this tonight. Don't continue going through life rebelling against God. Do not harden your heart tonight. Literally go from being an enemy of God's to having peace with God. Repent and surrender your life to Jesus.
Are You God's Enemy?
Make no mistake, if Jesus is not your Lord and Savior, then you have made yourself an enemy to God. This is true whether you believe in God or not. Ye adulterers and adulteresses, know ye not that the friendship of the world is enmity with God? whosoever therefore will be a friend of the world is the enemy of God (James 4:4).
(For many walk, of whom I have told you often, and now tell you even weeping, that they are the enemies of the cross of Christ: Whose end is destruction, whose God is their belly, and whose glory is in their shame, who mind earthly things.) Philippians 3:19-19.
For many deceivers are entered into the world, who confess not that Jesus Christ is come in the flesh. This is a deceiver and an antichrist (2 John 1:7).
The Lord Takes Revenge On His Enemies
God is jealous, and the Lord revenges; the Lord revenges, and is furious; the Lord will take vengeance on his adversaries, and he reserves wrath for his enemies. The Lord is slow to anger, and great in power, and will not at all acquit the wicked: the Lord has his way in the whirlwind and in the storm, and the clouds are the dust of his feet (Nahum 1:2-3).
Folks, I hope you understand that all sin is rebellion against God. When you deny Jesus Christ, you have made yourself God's enemy. When you continue rejecting God's truth, living in your sins, you are God's enemy. You can never have peace in this life while you remain at enmity with God and do not be deceived, if you die in your sins, you will remain God's enemy forever. Not only that, but you will suffer His righteous anger over your sins for all eternity.
We are out here tonight, pleading with you to submit your life to Jesus. Admit that you are a sinner. Cry out for God to have mercy on you. Repent from your sins and surrender your life to Jesus Christ. Oh, do this tonight and receive peace. Peace like you've never known before. If only we could get you to see how foolish it is for the created being to fight against the Almighty Creator.
Satan Foolishly Took On God And Lost
If this is you tonight, you cannot win. Satan foolishly thought that he could take on God and he's already lost the battle. Oh, he's still stealing, killing and destroying and will do so until the very end. But Satan has an end. He has lost the war. He is fated to suffer the torments of the lake of fire forever and ever. Every single person who rejects Christ Jesus, who dies in their sins, who dies in their unrepentant state will also suffer the flames of the lake of fire forever.
We don't want you to go there. We don't want you to continue living in a state of unrepentant guilt. Be cleansed. Be forgiven. Repent and put your faith in Jesus. Submit your life to the King of kings and the Lord of lords. We want you to receive life, eternal life and that's found in Jesus Christ alone. In fact, Jesus said you must be born again. You see, when you repent from your sins and put your trust in Jesus, you become a new creature. You are spiritually born again. When Jesus saves you, then you stop living selfishly for yourself and you live a surrendered life to Jesus Christ the Lord.
Receive True Peace
The Prince of peace becomes your Lord and you receive true peace. Again, peace like you've never know. Come to Jesus tonight. Stop fighting against Him. It's crazy to keep fighting a fight that you can't win. Surrender your life to Jesus and be saved. Receive peace, true peace, peace that surpasses all understanding.
Repent and believe the Gospel. Call upon the name of the Lord and be saved. Don't put it off. Do this tonight and go to sleep later on with real peace, peace with God. Jesus said "Peace be still" to the storm and there was immediately a great calm. You too can receive this same great calm, if you will heed Jesus' words, "Peace be still." Receive peace with God through repentance and faith in Jesus Christ the Lord.
(An abbreviated version of this message was lifted up in downtown Springfield, MO on January 5, 2017)