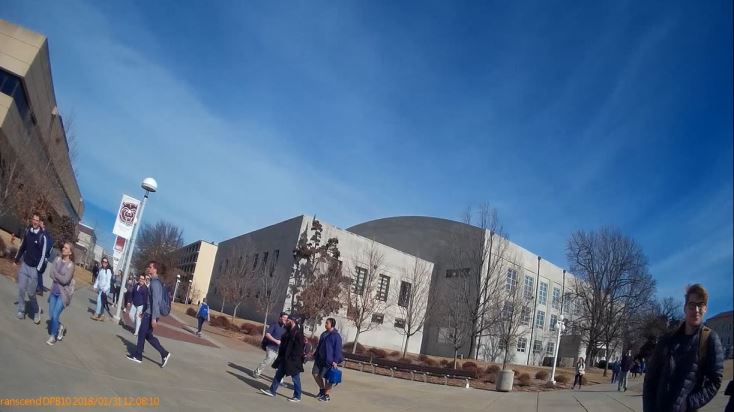 Sam I Am
Ministry Update January 31, 2018
I witnessed at Missouri State University during the lunch hour today. Handed out tracts on the way to the witnessing spot, then when I brought a message explaining why I share the Gospel with them. Because God is great. Right off the bat one student stopped right in front of me to listen. Then Quinn the skateboarding atheist stopped and sat on his skateboard. He asked questions and even though he wasn't sincere, I used his questions to address the crowd that he drew. 
Quinn wanted to know how God could punish people on Judgment Day if He is love. I used the example of the doctor in Michigan raping 156 girls and if the judge had let him go because she is all love, we'd all be livid with that decision. We would protest the injustice of that judge. Then as I continued with the message, Quinn thought I was saying that you could keep repenting and keep sinning until Judgment Day and then God would forgive you (and even he thought this didn't sound right). So I explained to Quinn that if he kept repenting and committing the same sin, then he really wouldn't be repenting. I also explained that a person must repent and trust Jesus in this life, Judgment Day will be too late.
Why Did Jesus Hang Around With Prostitutes And Sodomites
Then he wanted to know why Jesus hung around with prostitutes and sodomites. (Quinn originally introduced himself to me last fall as a gay atheist). I told Quinn that Jesus came to call sinners to repentance and that we have all sinned – idolaters, drunkards, prostitutes and sodomites (Luke 5:32). Jesus was looking for followers then and He's still looking for followers today. Jesus never said ask Him into your heart. No, Jesus said deny yourself, pick up your cross and follow Him (Matthew 16:24). After that I guess Quinn didn't want to play anymore so he jumped up and started saying "Sam I Am" and read from Green Eggs And Ham. I pointed out to the students standing around that Quinn knows God is real and he's proving it right now. If I had been talking about the tooth fairy, he wouldn't try to drown out the preaching.
But since God has written His law on our hearts, we know God is real. Quinn knows God is real too, even though he denies it. Then he skated off and I kept open-air preaching, telling about how great God is. Quinn skated back a short time later. He started reading gibberish to try to impede the message. About this time, Brittany stopped to listen. She has encouraged me in the past. After a few minutes she walked over to talk to Quinn. He started telling her that she is brainwashed too. Brittany was very kind and tried to share truth with him.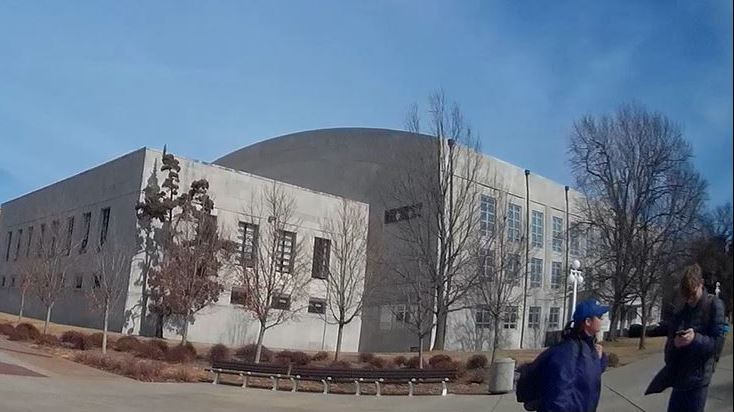 Another Believer Helping Out
When I finished up because I had to head back to work, I whispered "thank you" to Brittany because Quinn didn't realize that while they were talking, he wasn't spouting off gibberish. That allowed the Gospel to go forth unhindered. She smiled and said you're welcome and told me that she still prays for me. We really do serve a great God. By this time Quinn was back spewing out even more gibberish. So I stopped him and said that I have to go back to work. I stuck out my hand and he shook it. I told Quinn that I pray for him. He said I don't pray for you. (That's ok, God doesn't hear the prayers of unrepentant sinners.) The beauty of prayer is that the other person can deny God exists, but they can't stop you for praying for them.
During the brief period when Quinn wasn't around today, one gentleman walked by pushing a bicycle and he told me that God is all loving. Yes, God is loving, merciful and kind. But He is also just, Holy and righteous.
I replied back to the man, by stating that, you're saying God has already forgiven the doctor that raped the 156 girls. He stated yes, he supposes God has forgiven him. I said, in that case, the judge should have just let him go. I really believe the man was 100% dead serious when he said yes, she should have let him go. Folks, that would not be a good judge. That would not be a just judge. I told the man that I worship the true God and He is love and also is just. The God of the Bible punishes people and all unrepentant sinners will suffer eternal punishment (Revelation 20:11-15). This is not a game. The time to get right with God is today. Oh, people need to repent and trust Jesus. Follow Him and obey Him.
(These updates are given to encourage Christians to share their faith in Jesus with others)