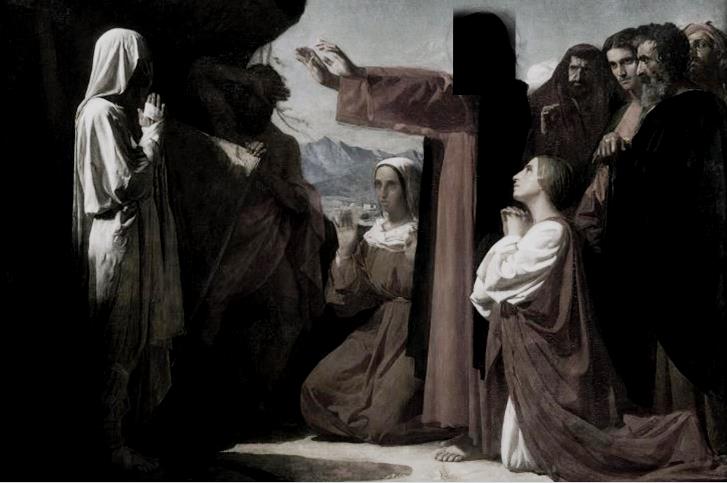 Wake The Dead
Wake the dead. No, I'm not talking about zombies or the living dead. I'm talking about waking the dead, as in several biblical accounts of Jesus raising people from the dead. He raised up the son of the widow at Nain. Jesus also raised Jarius' daughter from the dead. My second favorite account of Jesus raising someone from the dead is where Jesus told Lazarus to come out of the tomb. 
Now a certain man was sick, named Lazarus, of Bethany, the town of Mary and her sister Martha. (It was that Mary which anointed the Lord with ointment, and wiped his feet with her hair, whose brother Lazarus was sick.) Therefore his sisters sent unto him, saying, Lord, behold, he whom thou lovest is sick. When Jesus heard that, he said, This sickness is not unto death, but for the glory of God, that the Son of God might be glorified thereby.
Now Jesus loved Martha, and her sister, and Lazarus. When he had heard therefore that he was sick, he abode two days still in the same place where he was. Then after that saith he to his disciples, Let us go into Judaea again. His disciples say unto him, Master, the Jews of late sought to stone thee; and goest thou thither again? Jesus answered, Are there not twelve hours in the day? If any man walk in the day, he stumbleth not, because he seeth the light of this world.
Lazarus Is Dead
But if a man walk in the night, he stumbleth, because there is no light in him. These things said he: and after that he saith unto them, Our friend Lazarus sleepeth; but I go, that I may awake him out of sleep. Then said his disciples, Lord, if he sleep, he shall do well. Howbeit Jesus spake of his death: but they thought that he had spoken of taking of rest in sleep. Then said Jesus unto them plainly, Lazarus is dead (John 11:1-14).
And many of the Jews came to Martha and Mary, to comfort them concerning their brother. Then Martha, as soon as she heard that Jesus was coming, went and met him: but Mary sat still in the house. Then said Martha unto Jesus, Lord, if thou hadst been here, my brother had not died. But I know, that even now, whatsoever thou wilt ask of God, God will give it thee. Jesus saith unto her, Thy brother shall rise again.
Martha saith unto him, I know that he shall rise again in the resurrection at the last day. Jesus said unto her, I am the resurrection, and the life: he that believeth in me, though he were dead, yet shall he live: And whosoever liveth and believeth in me shall never die. Believest thou this? She saith unto him, Yea, Lord: I believe that thou art the Christ, the Son of God, which should come into the world.
The Master Is Calling
And when she had so said, she went her way, and called Mary her sister secretly, saying, The Master is come, and calleth for thee. As soon as she heard that, she arose quickly, and came unto him. Now Jesus was not yet come into the town, but was in that place where Martha met him. The Jews then which were with her in the house, and comforted her, when they saw Mary, that she rose up hastily and went out, followed her, saying, She goeth unto the grave to weep there.
Then when Mary was come where Jesus was, and saw him, she fell down at his feet, saying unto him, Lord, if thou hadst been here, my brother had not died. When Jesus therefore saw her weeping, and the Jews also weeping which came with her, he groaned in the spirit, and was troubled. And said, Where have ye laid him? They said unto him, Lord, come and see. Jesus wept. Then said the Jews, Behold how he loved him!
And some of them said, Could not this man, which opened the eyes of the blind, have caused that even this man should not have died? Jesus therefore again groaning in himself cometh to the grave. It was a cave, and a stone lay upon it. Jesus said, Take ye away the stone. Martha, the sister of him that was dead, saith unto him, Lord, by this time he stinketh: for he hath been dead four days.
See The Glory Of God
Jesus saith unto her, Said I not unto thee, that, if thou wouldest believe, thou shouldest see the glory of God? Then they took away the stone from the place where the dead was laid. And Jesus lifted up his eyes, and said, Father, I thank thee that thou hast heard me.  And I knew that thou hearest me always: but because of the people which stand by I said it, that they may believe that thou hast sent me.
And when he thus had spoken, he cried with a loud voice, Lazarus, come forth. And he that was dead came forth, bound hand and foot with graveclothes: and his face was bound about with a napkin. Jesus saith unto them, Loose him, and let him go (John 11:19-44).
I never get tired of reading this story. No matter how many times I read it, it always gets to me. Jesus loved Lazarus, Martha and Mary. After He heard that Lazarus was sick, He waited around in order for Lazarus to die. Jesus wasn't being cruel. In fact, when He saw the anguish of Martha and Mary over the death of their brother, Jesus wept! No, Jesus waited until Lazarus was dead in order for God to be glorified. This act shows the power of Jesus Christ. It backs up His earthly ministry that He is who He says He is.
Favorite Account Of Jesus Raising The Dead
But as wonderful as this story is, it is only my second favorite account of Jesus raising someone from the dead. My favorite account of Jesus raising someone from the dead is my own salvation. No, I wasn't physically dead. Instead, I was spiritually dead. Until 10 years ago, I spent my life living selfishly for myself. This was in spite of saying the sinner's prayer when I was 11 years old. Even though I shed real tears when I walked the aisle 43 years ago, there was no change in my life. I was spiritually dead before I walked down that aisle and repeated the sinner's prayer and I was just as spiritually dead after I walked away from the altar. I was still dead in my sins and the guilt of my sins remained upon me.
There was no change in my life. A dead person is a dead person. A spiritually dead person is a spiritually dead person. If Jesus Christ is not your Lord and Savior tonight, you are spiritually dead in your trespasses and sins.
And you hath he quickened, who were dead in trespasses and sins; Wherein in time past ye walked according to the course of this world, according to the prince of the power of the air, the spirit that now worketh in the children of disobedience: Among whom also we all had our conversation in times past in the lusts of our flesh, fulfilling the desires of the flesh and of the mind; and were by nature the children of wrath, even as others (Ephesians 2:1-3).
Spiritually Minded Is Life And Peace
For they that are after the flesh do mind the things of the flesh; but they that are after the Spirit the things of the Spirit. For to be carnally minded is death; but to be spiritually minded is life and peace. Because the carnal mind is enmity against God: for it is not subject to the law of God, neither indeed can be. So then they that are in the flesh cannot please God (Romans 8:5-8).
But Praise God I no longer live for the flesh. No, I live for Jesus Christ my Lord and Savior. Ten years ago while reading the Bible, God convicted me over my sins and He revealed His righteousness to me. I saw that I was a great sinner and that I was headed for Hell. But God demonstrated his love toward us, in that, while we were yet sinners, Christ died for us (Romans 5:8). Yes, God, in His great mercy, reached out and saved me. God granted me repentance and faith in Jesus when I humbly cried out, Oh, God I really am lost. Save me! And He did.
God took my sins and put them upon Jesus Christ as Jesus hung on the cross and He wrapped me in the righteous of Jesus the Lord, the sinless One. God no longer sees me as a guilty sinner. He sees me as innocent. Not because I am innocent, but because I put my trust, my faith in the sinless Savior. I repented from my sins and surrendered my life to the Lord Jesus Christ.
Take Hold Of This Free Gift
Salvation is of the Lord. It is the free gift from God. We must take hold of this free gift. If you walk on by tonight, ignoring God's truth, the salvation found in Christ alone, then you are missing the greatest gift of all time. You are rejecting this great salvation found in Jesus Christ alone.
We are saved by the grace of God and His grace alone. For by grace are ye saved through faith; and that not of yourselves: it is the gift of God: Not of works, lest any man should boast (Ephesians 2:8-9). Oh don't miss such a great salvation. Don't go through life rejecting Jesus Christ.
Don't continue barreling down the broad to destruction. Enter ye in at the strait gate: for wide is the gate, and broad is the way, that leads to destruction, and many there be which go in thereat: Because strait is the gate, and narrow is the way, which leads unto life, and few there be that find it (Matthew 7:13-14).
Awake O Sleeper
Oh, come to Jesus tonight and be saved. Repent from your sins and put your trust in Jesus. Submit to His lordship. Surrender your life fully and completely. Do this tonight. Oh, awake O sleeper. Wherefore he saith, Awake thou that sleepest, and arise from the dead, and Christ shall give thee light (Ephesians 5:14).
Jesus raised the dead when He walked this earth 2,000 year ago. He is still raising dead people to life today, spiritually dead people like I used to be. Jesus is the life and the resurrection. Our Lord said: I am the way, the truth, and the life: no man cometh unto the Father, but by me (John 14:6).
Jesus is the only Savior of mankind. Confess and forsake your sins. Turn from your sins and turn to Jesus. Repent and put your faith in Him. We are to have repentance toward God and faith in our Lord Jesus Christ (Acts 20:21). Trust Jesus tonight. Trust in Christ alone. Admit that you are a sinner. Cry out for God to Save you. Repent and surrender your life fully and completely to Jesus Christ our Lord. Do this tonight and be saved.
Come Alive In Christ
Come alive in Christ. Oh, come alive tonight. Repent and believe the Gospel. Deny yourself, pick up your cross and follow Jesus. Do this daily. Read the Bible daily and obey it. Take a deep breath as a live person, someone who is really alive, alive for the very first time. Oh, surrender your life to Jesus Christ and you will never be the same. You will come alive, spiritually alive. Trust Jesus. Trust in Him alone to save you. Call upon the name of the Lord and be saved.  For whosoever shall call upon the name of the Lord shall be saved (Romans 10:13).
Your sins can be forgiven. Your guilty conscience can be cleared. Believe in the Lord Jesus tonight and be saved. Receive eternal life. He that believeth on the Son hath everlasting life: and he that believeth not the Son shall not see life; but the wrath of God abideth on him (John 3:36). Don't continue going through life with God's wrath abiding upon you. Be saved. Be saved tonight. Repent and trust Jesus Christ our Lord.
(This message was proclaimed in downtown Springfield, MO on December 29, 2017)