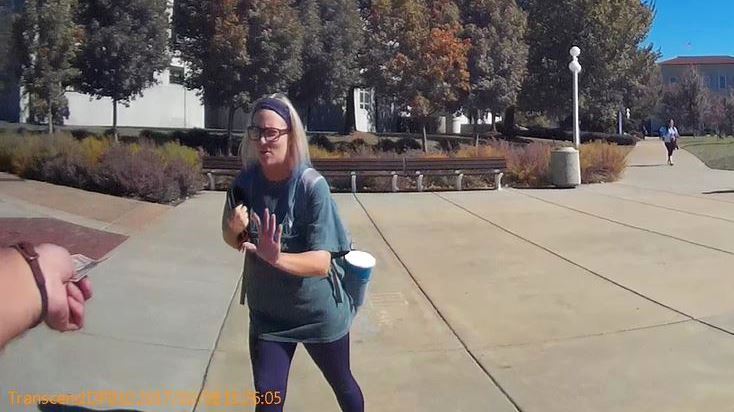 God Doesn't Believe In Your Unbelief Of Him
Last week a student put her hand up refusing a tract at MSU and then she turned around and said, "I don't believe in God." I didn't say anything because I'm trying not to respond in a harsh way to God-mockers and scoffers. But I can't get this out of my mind because what I really want to say to the young woman is "God doesn't believe in your unbelief of Him." 
Atheists can try to convince themselves and everyone else that they don't believe God is real, but God's word says they are lying. They are merely suppressing the truth. It's always amazing to me how people, especially those in college who should use their God-given brain, say that nothing created everything and with a straight face expect you to believe that.
Please show me one thing that has been created out of nothing. The clothes on your back were made by a clothing manufacturer. Your vehicle has a make and model. Where you live was built by a builder. The building across from me has been remodeled by a remodeler or a builder, but the original building had a builder. An architect designed the building. Someone built the building according to the plans.
Line Of Thinking Is Illogical
Why is it that atheists can logically recognize everything we see around us had a maker except they can't see that humans and this universe had a Maker? This line of thinking makes no sense. It is illogical. For years all I heard was cries for logic and science. Now science proves the baby in the womb is a baby. It is a human being, not just a clump of cells. Where are the cries for science now when it comes to aborting babies? They are deafeningly silent. Where are the cries for logic when you are saying nothing created everything? It doesn't make sense.
Professing atheists, you know God exists because you can look around at creation and know there was a Creator. The heavens declare the glory of God, and the sky above proclaims his handiwork. Day to day pours out speech, and night to night reveals knowledge. There is no speech, nor are there words, whose voice is not heard. Their voice goes out through all the earth, and their words to the end of the world. (Psalm 19:1-4).
The Sun, Moon And Stars
The sun, moon and stars don't literally speak words like "Look at us! Glorify, honor and praise almighty God because He made us." No, they don't speak, yet, they speak by their very existence. The sun is 93 million miles from earth. Have you ever really thought about that? 93 million miles is a really long way away.
Any closer to us and we would burn to a crisp. Any farther away and we would freeze to death. Yet, you're telling me that this magnificent creation just came about without a Creator? No, you know God is real because you can see His handiwork. You can look at the vast universe and realize how insignificant the earth is. You can see how insignificant we are. Yet, we are here and we do matter because God made us in His image.
Why Do Atheists Claim Unbelief Of God?
Even though you can look around at creation and know that God is real, many people in our secular society still deny the existence of God. So why do atheists claim unbelief of God when they know that the great God of Heaven and earth really does exists? I'm glad you asked that question. The Bible has a very clear answer. You, my atheist friends suppress the truth in unrighteousness because you love your sins.
For the wrath of God is revealed from heaven against all ungodliness and unrighteousness of men, who hold the truth in unrighteousness; Because that which may be known of God is manifest in them; for God hath shewed it unto them. For the invisible things of him from the creation of the world are clearly seen, being understood by the things that are made, even his eternal power and Godhead; so that they are without excuse:
Because that, when they knew God, they glorified him not as God, neither were thankful; but became vain in their imaginations, and their foolish heart was darkened. Professing themselves to be wise, they became fools, And changed the glory of the uncorruptible God into an image made like to corruptible man, and to birds, and fourfooted beasts, and creeping things (Romans 1:18-23).
Suppressing The Truth In Unrighteousness
First of all, you need to realize that you are suppressing the truth in unrighteousness when you say that you don't believe in God. The great Creator God is angry with you for foolishly saying that He doesn't exist or that you don't believe in Him. God's wrath is against you. He that believes on the Son has everlasting life: and he that believes not the Son shall not see life; but the wrath of God abides on him (John 3:36).
God has manifest Himself to us. You can look around and clearly see that there is a Creator, a Maker. God says you are without excuse! The fool hath said in his heart, There is no God. Corrupt are they, and have done abominable iniquity: there is none that does good. God looked down from heaven upon the children of men, to see if there were any that did understand, that did seek God. Every one of them is gone back: they are altogether become filthy; there is none that does good, no, not one (Psalm 53:1-3).
You mock and laugh at God, well God is laughing at you (and He will have the last laugh). God says you are a fool. You are foolish to say there is no God. Again why? Because you love your sins. God says you are corrupt. You have done abominable iniquity. He says none of us are good, which is true. None of us are righteous. None of us are good.
Professing Themselves To Be Wise
God says you know that He is real, yet you don't glorify Him. You don't worship God. You are unthankful. All of us should thank God for every breath that we take. We should thank Him for making us and providing for us. Yet, atheists, profess themselves to be wise, yet they become fools. It's utter nonsense to claim that God doesn't exist. It's crazy, foolish and dangerous. You do not want to die in your sins, in your unbelief and be cast into Hell.
Even Jesus addressed this issue in John 3:18-20: He that believes on him is not condemned: but he that believes not is condemned already, because he has not believed in the name of the only begotten Son of God. And this is the condemnation, that light is come into the world, and men loved darkness rather than light, because their deeds were evil. For every one that does evil hates the light, neither comes to the light, lest his deeds should be reproved.
Folks, Jesus said if you believe on Him, you are not condemned. But if you don't believe that He is the Son of God, the Messiah, the Christ, the Savior of mankind, then you are still under God's condemnation over your sins. Jesus said this because light has come into the world. Jesus is the Light. He is the Light of the world. So again, you are without excuse. He goes on to explain that you love the darkness rather than the light because your deeds are evil.
Do You Hate The Light?
Yes, you love being blinded by Satan because you love your sins. You not only reject the light, but you hate the light. You don't come to Jesus because you don't want your deeds to be exposed. Oh, you don't want to admit that you are a sinner. You don't want to be condemned over you sins. No, instead, you just want to quietly continue in your sins and to be left alone. You don't want to feel guilty over your lies, lusting, coveting, sexual immorality, hatred, anger and pride.
But Jesus came to reprove sin. Jesus tells it like it is. He said unless you repent, you will perish (Luke 13:3). Jesus said if you do not believe that He is the Savior, that you will die in your sins. You will die in your unbelief and you will suffer the torments of the lake of fire forever and ever.
God Doesn't Believe In Your Unbelief
God doesn't believe in your unbelief of Him. Stop fooling yourself. Admit that you are a sinner. Confess your sins. Cry out for the very God you've mocked all these years, to save you.  Seek the Lord while He may be found. But if from thence you shall seek the Lord your God, you shall find him, if you seek him with all your heart and with all your soul (Deuteronomy 4:29). Oh, seek the Lord tonight with all your heart and all your soul.
Come to Jesus tonight. He is the Light of the world. He is the only Savior. There is no other. Repent and trust Jesus. Do this tonight. Turn from your sins and turn to Jesus Christ the Lord. He is Lord. Jesus is Lord of all. He knows it and Jesus also knows that one day, you will acknowledge it too. Every knee will bow and every tongue will confess that Jesus Christ is Lord.
Do So In This Lifetime
Oh, but you must do so in this lifetime. You must repent and put your faith in Jesus while you still have breath in this life. If you wait until Judgment Day, it will be too late. Oh, don't foolishly die in your sins denying God when you know that He is real. You can look around and know God is real. But you must cast off the works of darkness. Come to the Light. Come to Jesus the Christ.
If not, you are just fooling yourself. God isn't fooled. No, you are fooling yourself. If you continue in your rebellion against God, if you continue in your "professed" unbelief in God, then you are just storing up more wrath against the day of wrath. But after your hardness and impenitent heart you treasure up to yourself wrath against the day of wrath and revelation of the righteous judgment of God; Who will render to every man according to his deeds: (Romans 2:5-6).
Continue Rebelling Or Seek The Lord
You can continue in your rebellion or you can seek the Lord with all your heart and soul. Please listen to the following verses: To them who by patient continuance in well doing seek for glory and honour and immortality, eternal life:  But unto them that are contentious, and do not obey the truth, but obey unrighteousness, indignation and wrath,
Tribulation and anguish, upon every soul of man that does evil, of the Jew first, and also of the Gentile; But glory, honour, and peace, to every man that works good, to the Jew first, and also to the Gentile: (Romans 2:7-10). The choice is yours. You can claim there is no God, die in your sins one day and find out you were wrong and suffer the eternal consequences. Or, if God is convicting you over your sins, you can seek the Lord and be saved.
If you repent and put your faith in Jesus, it will be your desire to honor, glorify and praise almighty God. That's what compels me to share the Gospel with this lost and dying world. Oh, my desire is for Christ my Lord to be lifted high. Come to the risen Lord and be saved. Quit playing games. Stop pretending God doesn't exist. Confess and forsake your sins. Repent and surrender your life completely to Jesus Christ. Do this tonight and be saved. Repent and believe the Gospel.
(This message was lifted up on October 27, 2017 in downtown Springfield, MO)