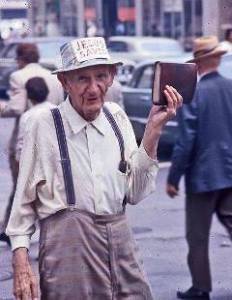 We are all running a race (whether we realize it or not). How will you finish? My friends and I come out here on Friday nights to share the glorious Gospel with you. We want to finish the race strong. We have surrendered our lives to Jesus Christ and we want to finish the race with a strong finish. We want to finish our time on this earth telling others about Jesus. I saw a picture of an old man the other day and he had pinned to his hat "Jesus Saves" and he's standing out on a sidewalk holding his Bible up in the air. That's the way I want to finish the race – strong for Jesus.
In 2 Timothy 4:7-8, the apostle Paul says: I have fought a good fight, I have finished my course, I have kept the faith:8 Henceforth there is laid up for me a crown of righteousness, which the Lord, the righteous judge, shall give me at that day: and not to me only, but unto all them also that love his appearing. Paul also says in Philippians 3:14, I press toward the mark for the prize of the high calling of God in Christ Jesus.
Again, my friends and I are running the race for Jesus Christ. We want to finish strong. We want to share the glorious Gospel of Jesus Christ our Lord for as long as we have breath in us.
But some of you out here tonight are probably not in the race of proclaiming the Good News of Jesus. No, some of you are trapped in the rat race. You are so busy, caught up in everyday life, that you don't even think about eternity or what's really important. This reminds me of the parable Jesus told about the sower. He said some seed fell among the thorns. Then He explained this to His disciples in Matthew 13:22, He also that received seed among the thorns is he that heareth the word; and the care of this world, and the deceitfulness of riches, choke the word, and he becometh unfruitful. Does this describe you tonight? Are you caught up in the desire for riches? Are you caught up in the pleasures of the flesh? Are you consumed with work? Are you desperately trying to keep with the Joneses? Are you filling your life up with more and more materialistic goods; with more stuff all the time and are you finding that it's never satisfying? Are you stuck in the rat race?
There are many other people who are caught running the wrong race. They are furiously jumping the high hurdles, when they should be running the long distance. They are blindly following cults. Islam, Mormonism, Jehovah's Witnesses, Buddhism, Hinduism and Catholicism are all false religions. Jesus Christ is the only Savior. Acts 4:12 states, Neither is there salvation in any other: for there is none other name under heaven given among men, whereby we must be saved. The only way of salvation is through the sinless Son of God. In John 14:6, Jesus says, I am the way, the truth, and the life: no man cometh unto the Father, but by me. Are you running the wrong religious race tonight?
Then there are some people who missed the starting gun. The race is going on but they are standing around the starting line wondering if there really is a race. They don't believe that the race is real. But we know that they are merely fooling themselves. They can look around at the track and know that there's a race. They can see it and they can see other runners. But they just claim that they don't really see it. Romans 1:20 tell us: For the invisible things of him from the creation of the world are clearly seen, being understood by the things that are made, even his eternal power and Godhead; so that they are without excuse. Are you are God mocker and scoffer? Are you spiritually stuck at the starting line; looking around trying to convince yourself that there is no race?
We also have people who profess Jesus with their lips, but their hearts are far from Him. They are running the race, but they are running in the wrong direction. They know the correct race, they know where they should be, but instead of running the track counter clockwise (like normal) they are running the race backwards – they are running the race clockwise.
This group may even be running hard, but they are running the wrong way around the track. They heard the starting gun and they took off; but they are going the wrong way. Matthew 7:21-23 states: Not every one that saith unto me, Lord, Lord, shall enter into the kingdom of heaven; but he that doeth the will of my Father which is in heaven. 22 Many will say to me in that day, Lord, Lord, have we not prophesied in thy name? and in thy name have cast out devils? and in thy name done many wonderful works? 23 And then will I profess unto them, I never knew you: depart from me, ye that work iniquity. Are you running the wrong way tonight? Do you claim Jesus Christ as your Savior, but you've never truly surrendered your life to our Lord?
Again, my friends and I are running the race tonight. The starting gun has fired and we are sharing the glorious Gospel of Jesus Christ our Lord with anyone and everyone. We are excited because we have everlasting life! We are saved. When we die, we will be in the presence of Jesus forever. We have escaped the flames of Hell. Our sins have been forgiven. We have confessed and forsaken our sins. We are running the race for the King of kings and the Lord of lords.
We have surrendered our lives to Jesus Christ. We have turned from our sins and turned to the Savior. Before we were saved, we were dead in our trespasses and sins. Our sins previously separated us from God. But when we understood that Jesus, the sinless Son of God suffered and died on the cross for our sins, we cried out to Him to save us. We recognized our sinfulness and His Holiness. We believe that He suffered and died on that bloody cross, enduring the wrath of God for our sakes, taking the punishment that we deserved. We believe that He rose from the grave, defeating sin, death, Hell and Satan. We believe the Gospel of Jesus Christ and we have repented from our sins.
Our desire is to finish the race strong for Jesus; the author and finisher of our faith. We are so grateful for our salvation, that we want God to work through us to help further His kingdom. Do not miss this: you cannot earn your salvation. For by grace are ye saved through faith; and that not of yourselves: it is the gift of God: 9 Not of works, lest any man should boast. You cannot work your way to Heaven. You can only be saved by grace through faith in Jesus. But after you are saved, you will have works. Jesus said that we would know His disciples by their fruit, in other words by their works.
Are you spiritually in the race tonight? Are you following Jesus Christ? Are you spiritually in the right race? Are you saved? Is Jesus truly your Lord and Savior? If He's not, then you need to repent and put your faith in Him. You need to bow your knee and confess with your tongue that Jesus Christ is Lord. Don't foolishly suffer God's anger over your sins forever in Hell. Everyone that's in Hell right now deserves to be there. Every one of us deserves Hell. We have all rebelled against God. We have all lied, most of us have stolen, we have all lusted and we have all coveted something or someone. None of us have loved God with all of our heart, soul, mind and strength. We all deserve Hell. Unrepentant sinners get what they deserve. Unrepentant sinners will suffer the torments of Hell for all of eternity. If you die in your state of rebellion, then you will end up there. Don't suffer God's wrath forever and ever. You can receive what you cannot earn and what you do not deserve; God's great grace and mercy. You can be saved tonight. You can receive eternal life. You can be forgiven for your sins. You can be set free tonight. Come to Jesus. Get in the right race. Surrender your life to Jesus. Then finish the race strong for our Redeemer.
Are you spiritually in the race? We're supposed to run the race like we want to win. So how do you win this race? You win this race by losing. You win by losing. Say whaaaaaaaaaaaaaaaaaaaaaaaaaaat? How can you win a race by losing? Only through Jesus. Mark 8:34-38 says, And when he had called the people unto him with his disciples also, he said unto them, Whosoever will come after me, let him deny himself, and take up his cross, and follow me. 35 For whosoever will save his life shall lose it; but whosoever shall lose his life for my sake and the gospel's, the same shall save it. 36 For what shall it profit a man, if he shall gain the whole world, and lose his own soul? 37 Or what shall a man give in exchange for his soul? 38 Whosoever therefore shall be ashamed of me and of my words in this adulterous and sinful generation; of him also shall the Son of man be ashamed, when he cometh in the glory of his Father with the holy angels.
You must be a loser tonight to be an eternal winner. You must deny yourself, pick up your cross and follow Jesus. You must lose your life in order to gain it. You must lose your life to Jesus. You lose your life to the Son of God by surrendering your life to Him.
Then you lose your life in Him. John 15:1-5 states: I am the true vine, and my Father is the husbandman. 2 Every branch in me that beareth not fruit he taketh away: and every branch that beareth fruit, he purgeth it, that it may bring forth more fruit. 3 Now ye are clean through the word which I have spoken unto you. 4 Abide in me, and I in you. As the branch cannot bear fruit of itself, except it abide in the vine; no more can ye, except ye abide in me. 5 I am the vine, ye are the branches: He that abideth in me, and I in him, the same bringeth forth much fruit: for without me ye can do nothing.
The starting gun has sounded. Boom! The race has started. Are you in the race? Are you in the right race? Are you running the race in the right direction? Will you win the race by losing? Will you lose your life to Jesus tonight? Will you lose your life in Jesus? Will you submit to His Lordship? Will you repent and put your trust in Jesus? Will you turn from your sins and turn to Jesus? Be an eternal winner. Be saved tonight.
(This message was proclaimed in downtown Springfield, MO on December 12, 2014)