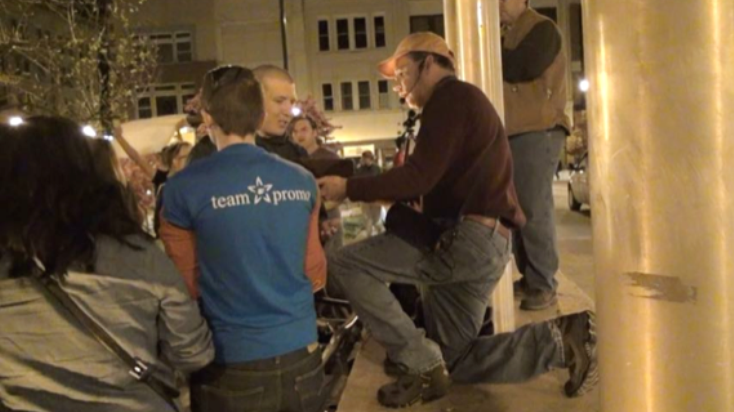 Why Do You Believe In God?
Last week at Missouri State University, a student asked me, "Why do you believe in God?" This young man introduced himself to me earlier in the year as being an atheist (and even included his sexual preference which I didn't ask about). But last week in addition to wanting to know if I believe in science (which I do – biblical science), he also wanted to know: why do you believe in God? 
Why do I believe in God? I believe in God because I can look around at creation and know that God is real. The heavens declare the glory of God; and the firmament shows his handiwork (Psalm 19:1).
O come, let us sing unto the Lord: let us make a joyful noise to the rock of our salvation. Let us come before his presence with thanksgiving, and make a joyful noise unto him with psalms. For the Lord is a great God, and a great King above all gods.  In his hand are the deep places of the earth: the strength of the hills is his also.
The sea is his, and he made it: and his hands formed the dry land. O come, let us worship and bow down: let us kneel before the Lord our maker. For he is our God; and we are the people of his pasture, and the sheep of his hand. Today if you will hear his voice, Harden not your heart, as in the provocation, and as in the day of temptation in the wilderness (Psalm 95:1-8).
Worship the Lord
O worship the Lord in the beauty of holiness: fear before him, all the earth. Say among the heathen that the Lord reigns: the world also shall be established that it shall not be moved: he shall judge the people righteously. Let the heavens rejoice, and let the earth be glad; let the sea roar, and the fulness thereof. Let the field be joyful, and all that is therein: then shall all the trees of the wood rejoice Before the Lord: for he comes, for he comes to judge the earth: he shall judge the world with righteousness, and the people with his truth (Psalm 96:9-13).
But ask now the beasts, and they shall teach you; and the fowls of the air, and they shall tell you: Or speak to the earth, and it shall teach you: and the fish of the sea shall declare unto you. Who knows not in all these that the hand of the Lord has wrought this? In whose hand is the soul of every living thing, and the breath of all mankind (Job 12:7-10).
For the wrath of God is revealed from heaven against all ungodliness and unrighteousness of men, who hold the truth in unrighteousness; Because that which may be known of God is manifest in them; for God hath shewed it unto them. For the invisible things of him from the creation of the world are clearly seen, being understood by the things that are made, even his eternal power and Godhead; so that they are without excuse:
Because that, when they knew God, they glorified him not as God, neither were thankful; but became vain in their imaginations, and their foolish heart was darkened. Professing themselves to be wise, they became fools (Romans 1:18-22).
We Can Look Around At Creation And Know God Is Real
You and I can look around at creation and know that God is real. God says those of you who deny His existence, do so because you suppress the truth in unrighteousness. Is this you tonight? Do you suppress the truth in unrighteousness? Are you blinded to the great Creator God because you love your sins (John 3:19)?
Yes, we can know God is real just by looking around at His handiwork. By looking around at creation we know that there was a Creator. But that's not the main reason why I believe in God. I believe in God because He has revealed Himself to me through Jesus Christ – His only begotten Son.
Ten years ago, God marvelously saved me by His great grace and mercy. Salvation is of the Lord. We can't save ourselves. In fact, all we do is mess things up. We've all sinned against God and the wages of sin is death. But the gift of God is eternal life through Jesus. Romans 6:23 states: For the wages of sin is death; but the gift of God is eternal life through Jesus Christ our Lord.
God Revealed
God revealed Himself to me while I was reading the Bible. My brother challenged me to read it and I accepted his challenge at the beginning of 2007. I started reading at the beginning in Genesis and finished at the end of Revelation before the end of that same year. In the fall of 2007 God showed me that He was Holy and that I wasn't.
Yes, God is Holy, righteous and just. There is punishment for sin. The soul that sins, it shall die. There are eternal consequences for sin. Unrepentant sinners spend eternity in Hell. It is a place of unimaginable pain, anguish and torment. Through reading the Bible, I saw that God has punished sin, still punishes sin and will punish sin in the future. He is that Holy! God is righteous. In Him is no darkness or variableness. There is no shadow of turning with God.
Unlike today's culture that says there is no black and white and everything is gray, God's character is the exact opposite. His truth is black and white. There is no gray with God concerning right and wrong. God always does right. Almighty God is also just, so that means He punishes the guilty.
Eternal Damnation
We are all guilty sinners. None of us are just. Not a single one of us are righteous. None of us are holy on our own. We all have rebelled against God and we all deserve His righteous anger over our sins. That's what each of us deserve and that's what all unrepentant sinners will receive, if they die in their sins. They will receive God's just punishment which is eternal damnation.
In addition to showing me His Holiness, God also revealed my wicked heart to me. The heart is deceitful above all things, and desperately wicked: who can know it? (Jeremiah 17:9). By reading the Bible and seeing God's truth for myself, I realized that I was a wretched sinner. I had lived my life selfishly for myself instead of living for God. Yes, I deserved to spend eternity in Hell and that's where I was headed.
I had been an idolater. drunkard, fornicator, adulterer, thief, extortioner, reviler and I had a really bad temper. Listen to what the apostle Paul says in Galatians 5:19-21:  Now the works of the flesh are manifest, which are these; Adultery, fornication, uncleanness, lasciviousness, Idolatry, witchcraft, hatred, variance, emulations, wrath, strife, seditions, heresies,
Envyings, murders, drunkenness, revellings, and such like: of the which I tell you before, as I have also told you in time past, that they which do such things shall not inherit the kingdom of God. Unrepentant sinners will not inherit the kingdom of God. Not a single one.
Answer To My Dilemma
But the best part of recognizing God is Holy and I'm not is that God also revealed the answer to my dilemma and that answer is also found in the Bible. Jesus Christ is the answer, the only answer. God is Holy, we are not. Sin separates us from God. There's nothing that you or I can do to change that on our own.
It's a horrible situation to be in with dire eternal consequences. The good news is we don't have to continue in this state of despair, with no hope. There is hope and it is found in Jesus Christ alone. He is the answer to our sin problem. Jesus is the only mediator between God and man.
Jesus is the only Savior. I, even I, am the Lord; and beside me there is no savior (Isaiah 43:11). I am the Lord, your Holy One, the creator of Israel, your King (Isaiah 43:15). Of this man's seed hath God according to his promise raised unto Israel a Savior, Jesus: (Acts 13:23).
Jesus Our Savior
Titus 2:11-14 states: For the grace of God that brings salvation hath appeared to all men, Teaching us that, denying ungodliness and worldly lusts, we should live soberly, righteously, and godly, in this present world; Looking for that blessed hope, and the glorious appearing of the great God and our Savior Jesus Christ; Who gave himself for us, that he might redeem us from all iniquity, and purify unto himself a peculiar people, zealous of good works.
And that from a child you have known the holy scriptures, which are able to make you wise to salvation through faith which is in Christ Jesus (2 Timothy 3:15). Jesus Christ is the promised Messiah. He is the One prophesied about in the Old Testament. Jesus is the Lion of the tribe of Judah. He is the Christ. He is the Savior, the only Savior of mankind. Without Jesus Christ, there is no hope. Atheism, new ageism nor any other ism offers eternal hope. Hope is found in Christ Jesus alone.
He came to this earth a little over 2,000 years ago, born of the virgin Mary and the Holy Spirit. Jesus was fully God and fully man. He lived a perfect, sinless life. Unlike you and me who have fallen short of God's glory, Jesus did not fall short. He did not miss the mark. He perfectly kept the 10 Commandments in thought, word and deed. Jesus never sinned one time. Not once. He always did the will of God the Father.
Up From The Grave He Arose
Yet He willingly laid down His life for His friends. Jesus willingly took the physical beating, the verbal taunting and humiliation, suffering in place of His friends. He bore the wrath of God over guilty sinners. Jesus suffered, bled and died on that cruel cross. He was buried in a tomb. But up from the grave He arose, three days later. Jesus defeated sin, death, Hell and Satan.
That's why He's the only way of salvation. He is the Victor! God offers eternal life to each and every person who repents and surrenders their life to Jesus. Our Lord paid the sin debt for His friends. How do you become one of His friends? You do so when God convicts you over your sins, reveals His righteousness to you and you cry out to God for mercy. You become a friend of Jesus when you repent and put your trust in Him.
As the Father hath loved me, so have I loved you: continue in my love. If you keep my commandments, you shall abide in my love; even as I have kept my Father's commandments, and abide in his love. These things have I spoken unto you, that my joy might remain in you, and that your joy might be full.
You Are My Friends
This is my commandment, That you love one another, as I have loved you. Greater love hath no man than this, that a man lay down his life for his friends. You are my friends, if you do whatsoever I command you. Henceforth I call you not servants; for the servant knows not what his lord does: but I have called you friends; for all things that I have heard of my Father I have made known unto you (John 15:9-15).
Why do I believe in God? Because I can look around at creation and know that God is the great Creator. He also revealed His truth to me through His word. God showed me His righteousness and my unrighteousness. The Bible also revealed to me that Jesus Christ is the only Savior and we have to come to Him, His way – through repentance and faith. Once God convicted me over my sinfulness and converted me through repentance and faith in Jesus, then Jesus became my friend. Or should I say, I became a friend of Jesus.
I'm no longer God's enemy. I no longer love my sins. I love Jesus and I want to serve Him with all that I have and all that I am. Oh, I believe in God because God made Himself real to me, by saving me through His precious, sinless Son, Jesus Christ my Lord. I've explained why I believe in God, now I ask you, why don't you believe in Him?
(This message was lifted up in downtown Springfield, MO on December 1, 2017)