Super Cold Super Bowl Outreach 2018
Super Bowl 52 was in Minneapolis, MN this year, in a domed stadium. But the Super Bowl Outreach was outdoors – Friday, Saturday and Sunday February 2nd through the 4th where it was a super cold Super Bowl Outreach. The mornings started out below zero with the wind chill making it feel like 25 below. It was the coldest weather that I personally have ever witnessed in before. But there were 50 evangelists from around the country that went to Minneapolis to share the glorious Gospel at the NFL Experience and the Super Bowl.
There were seven of us on Andy's team. While Gerry was preaching on Friday, a woman stopped and started heckling Gerry. Andy talked to the woman and she became upset about the fact that God has revealed Himself to everybody. She called Andy a weirdo and he replied that she was fighting the truth. She claimed that there is no Heaven and that we are currently in Hell. Then she tried to embarrass him.
Andy told her that she can't embarrass him. Then she told him that she's all about kindness so he asked her how kind it was of her just moments before to try to embarrass him. Then she said there is no God. About that time a man who appeared to be from India (or Indian decent) was standing at the street corner holding his son's hand. He turned around and said "Jesus is God." Then even more forcefully he repeated "Jesus is God!" Amen brother, that will preach.
How Effective Is Open-Air Preaching?
Also on Friday a teenager from Texas stopped to talk to John and I while Blake was preaching. He was with a group called Revive Minnesota. They go around the country witnessing at different events. Others from his group joined us too. They wanted to know how effective open-air preaching is. We explained that it's more about being obedient to God. John told him that we speak the truth and we really don't know if God is using us as planting seeds, watering or harvesting. God draws lost souls to Himself. While we talked for a while, the teenager and an adult both commented on how Blake was preaching truth (which of course he was). Originally, they may have thought we were shock and awe preachers, which we aren't.
The young man asked if they could pray for us and we said, yes, we can always use more prayer. Then several of them took turns praying. After they finished I asked if John and I could pray for them and of course they also agreed. I prayed that God would grant them conversations with people where they could explain the Gospel to people and that maybe God would even allow them to over hear people in the crowd talking about those crazy preachers and that maybe they could use that as a springboard to start a conversation.
After we prayed, the teenager gave John and I a bracelet with Bible verses around it. The Bible verses turned out to be what is commonly called The Roman's Road. I smiled at the teenager and said these verses are right out of our playbook. It was a great time of mutual encouragement among fellow believers. Praise God for this encounter.
Young Encourager
Friday was a high of 9 degrees, still with below zero temperatures with the wind chill. Saturday was still super cold at 18 degrees, with snow most of the afternoon and wind advisories. I didn't check the wind chill that day, but I heard there were wind gusts of up to 30 miles per hour. A girl that is maybe in middle school or early high school stopped to talk to Andy while John was preaching. She thanked us for being out there and encouraged us. Andy asked her if she knew how to share her faith in Christ with others. She basically said Jesus loves you.
So Andy taught her the good person test and she genuinely appreciated it. Then he gave her copies of the 180 Movie, The Atheist Delusion and Audacity DVDs. Again, she greatly appreciated that. She wasn't bundled up like we were, so Andy suggested that she needed to go on her way so she could warm up. I don't think she wanted to quit talking. Now that looks like the sign of a real follower of Jesus, someone who doesn't want to quit talking about Him.
Jesus Is A Myth
While Blake was preaching a drunk guy walked by and yelled Jesus is a myth. Andy was standing near by, so he confronted the guy. He asked him why he was getting so mad over a myth. The fact that he got so mad actually proves God is real. If Blake had been talking about the tooth fairy, the stumbling drunk guy would have walked on by without heckling him.
Maybe because the temperature was warmer than the day before, we had more hecklers throughout the day. Jeff tried to get the hecklers to come back and interact with him. Most just mouthed off and walked on. One really drunk guy got right in my face yelling at me. Gerry and Andy both came over and stood near me until he walked away. I happened to bring the last message Saturday night and when I finished up, a young guy stopped and just stood there in front of several of us. As I was putting my amplifier away, Jeff walked over and asked him if he and any questions.
Highway To Hell
Turned out the young man just wanted to mock God. They talked a little bit then the young man asked all of us if were Minnesota Viking fans. We said no, but Andy said that he was from the area and came back to share the Gospel. Then the young man cussed a little and told us to get out of his city and suggested we go to Hell. Jeff said something about the young man going to Hell. Then he spun around and came back to talk some more. Jeff and Andy tried to reason with him. They kept tag teaming him. Then Andy told him about Judgment Day and that he could very well look back on this as one of those would of, could of, should of moments.
Then the young man started singing "Highway to Hell." I told him yes, you can party all the way to Hell, but there's no party in Hell. There are a million roads to Hell, but no exits (a Leonard Ravenhill quote). Jesus said the rich man died, buried and in Hell lifted up his eyes and begged for a drop of water (Luke 16:22-24). Jeff and Andy talked to him some more. Before it was over, the young man accepted a tract from Jeff and said that he would read it. He also apologized for how he talked to Jeff earlier. It was truly amazing to see how God softened his heart right there in front of us. We were all encouraged as we packed up our stuff to go eat supper, but Blake was especially encouraged. He had never witnessed a change like that in a mocker before.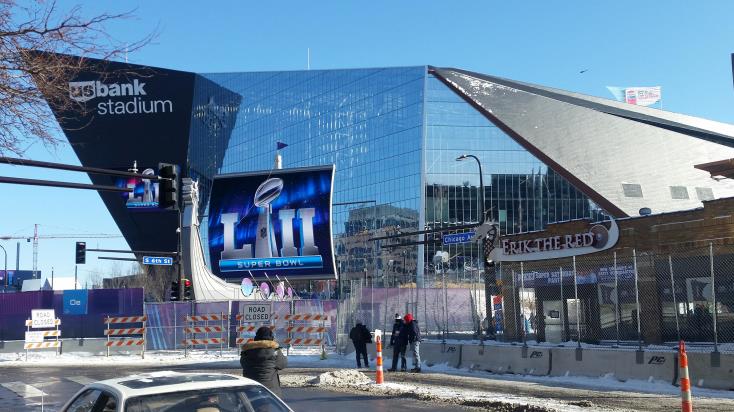 Sunday Coldest Day Of All
Super Bowl Sunday was even colder than the previous two days. My flight back home was changed three times, so unfortunately, I had to fly out that morning (only to have both flights delayed). So I missed witnessing with the guys on Sunday. Andy told me that they had a blessed time witnessing on Sunday. It was truly a blessing to witness with Andy, Jeff, John, Gerry, DJ and Blake. I also thank Bill with Sports Fan Outreach International for organizing this event. I also appreciate the 50 evangelists that braved the weather to share the Gospel in Minneapolis on Super Bowl weekend.
Lord willing, we can witness together at the Super Bowl next year in Atlanta where hopefully the temperatures won't be anywhere nearly as cold as the super cold Super Bowl Outreach 2018 in Minneapolis. May God bless the tracts that were handed out, the conversations and the preaching that went forth at the Super Bowl Outreach this year. Salvation is of the Lord and may He convict and convert lost souls.